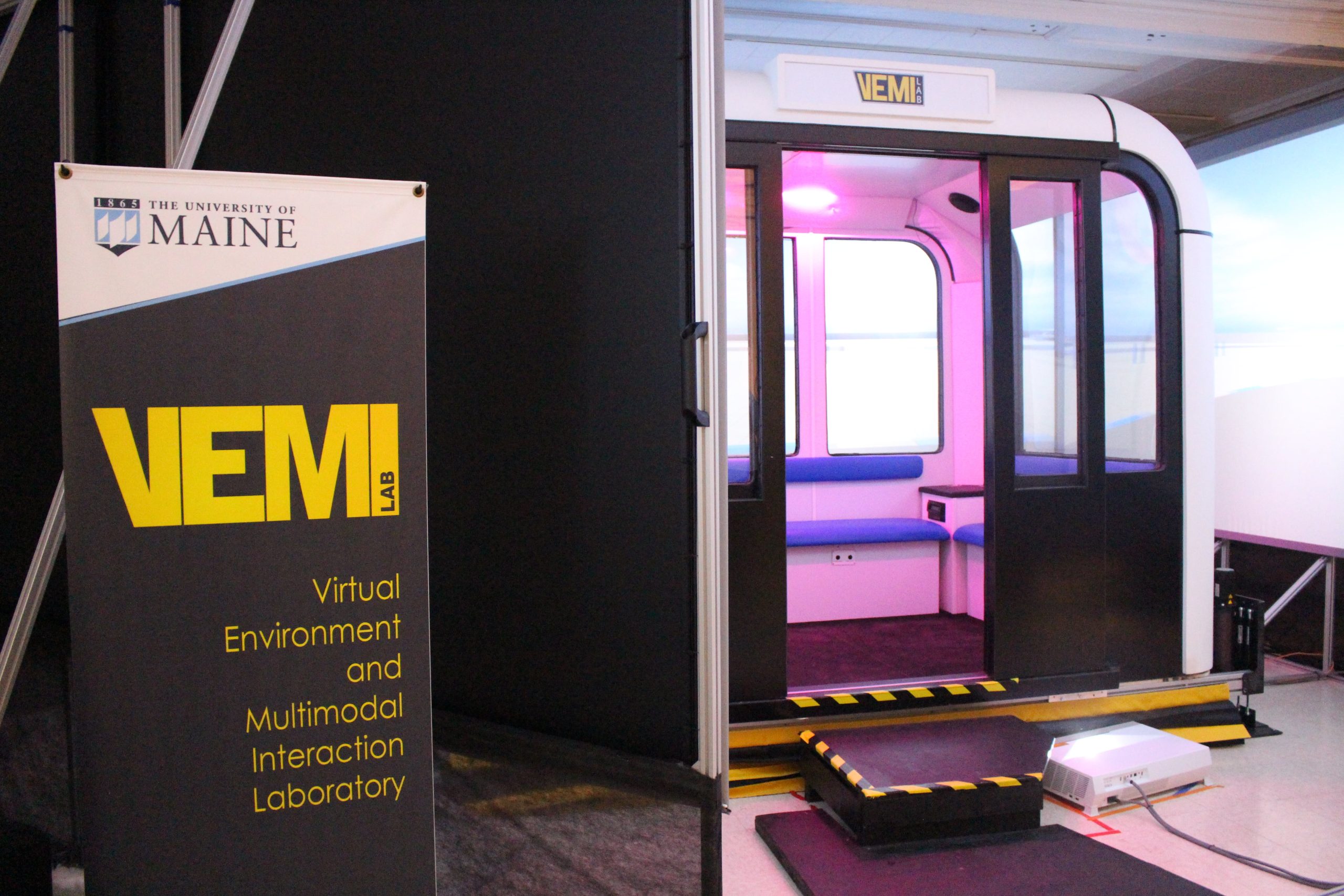 UMaine's VEMI Lab Aims to Improve Transportation Equity with Room-Sized Simulator
UMaine's VEMI Lab Aims to Improve Transportation Equity with Room-Sized Simulator
Orono, ME – One of the University of Maine's most innovative lab spaces strives to solve unmet challenges with technology. The Virtual Environment and Multimodal Interaction Laboratory, or VEMI Lab, has over 15 years of human-computer interaction and research education expertise. With a team of dedicated multidisciplinary student researchers, the VEMI lab has undertaken several projects to improve how humans interact with technology. With this focus, their research has often centered on equity for older adults and the disabled community, including those with limited vision, mobility, or cognition.
One of the VEMI Lab's equity-centered projects that is currently under development aims to tackle a major obstacle in transportation. Over 25 million people report experiencing travel limitations due to a disability. As a way to research causes and solutions to this, the VEMI Lab has constructed a fully immersive Autonomous Vehicle (AV) simulator called the Multimodal Omnidirectional Immersive Simulator for Inclusive Navigation, or MOISIN, that combines visual and sensory interaction to fully experience public transit in a controlled environment. This AV simulator includes a full-sized public transit car suspended on hydraulics and surrounded by screens that project a full city scene going by. Being inside the simulation, it is hard to tell that you're in a repurposed classroom on the University of Maine campus and not actually driving downtown. This simulator will be used to study the primary needs of older adults and the disabled community in public transportation, and the communication channels and user interfaces that work best to improve transportation equity for these 25 million people.
Research at the VEMI lab is both groundbreaking and important for communities that too often are not accommodated in everyday situations. To learn more about this AV simulator and many more projects that the VEMI Lab is undertaking, visit their website at https://umaine.edu/vemi/
The TIDC is the 2018 U.S. DOT Region 1 University Transportation Center located within the University of Maine Advanced Structures & Composites Center. TIDC's focus is on extending the life and improving the durability of transportation assets. The University of Maine has partnered with The University of Connecticut, the University of Massachusetts Lowell, the University of Rhode Island, the University of Vermont, and Western New England University in collaboration with all 6 New England DOTs to create TIDC.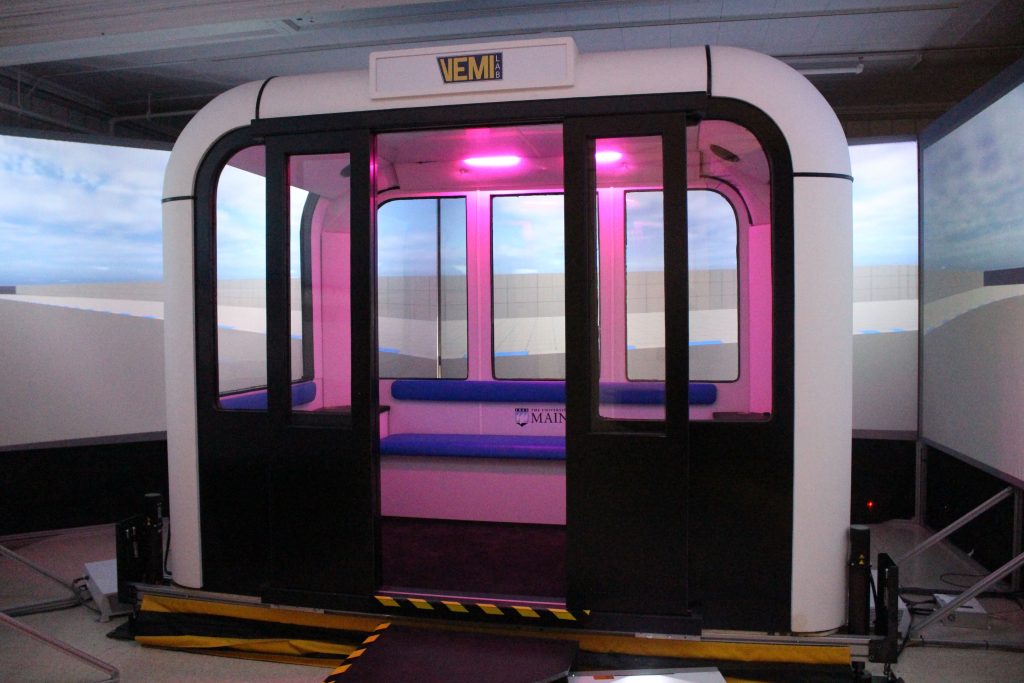 Image: A full view of the VEMI Lab's MOISIN AV Simulator. The main chamber at center is supported by hydraulic lifts at its corners which simulate movement in the car. Additionally, screens surround the main chamber which has projected on them a city scene that moves in tandem with the hydraulic system, creating the illusion of movement.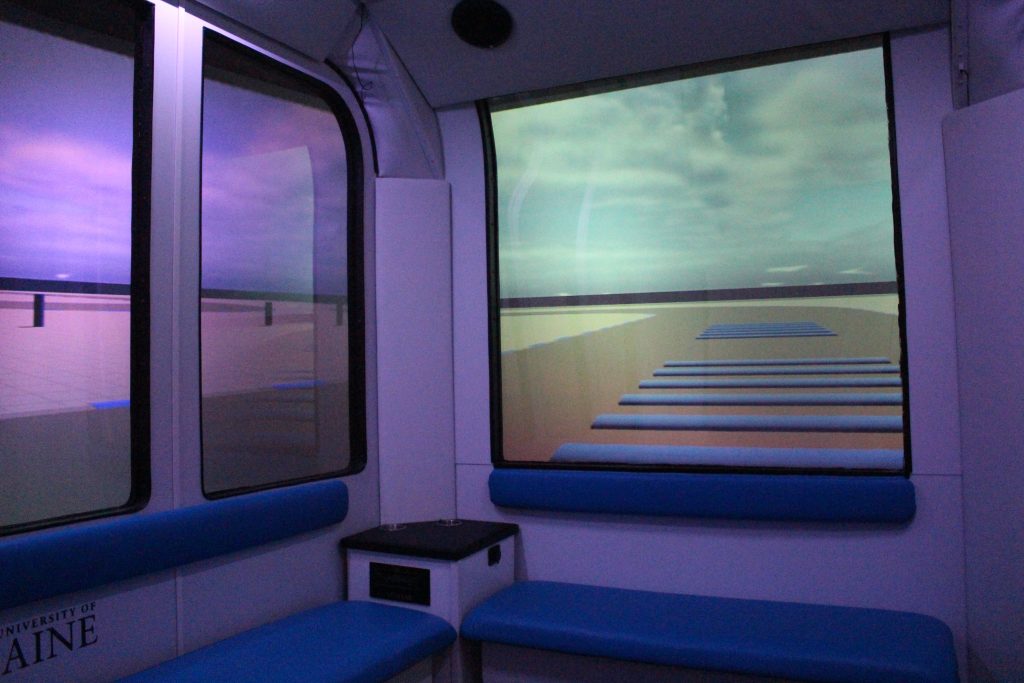 Image: A view from the inside of the MOISIN. Ahead are speed bumps that cause turbulence within the simulator.