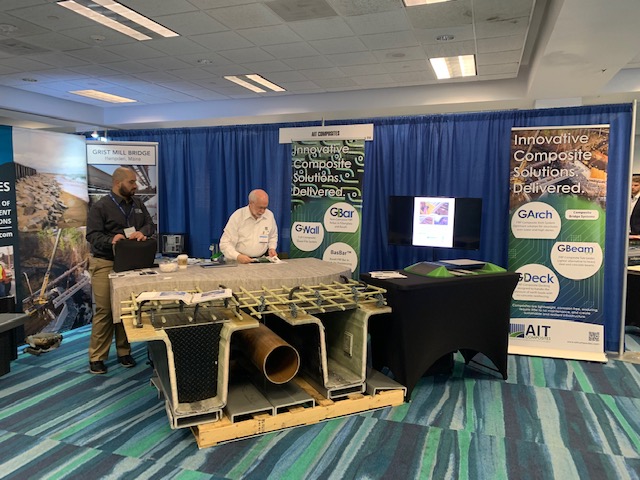 TIDC joins AIT Composites at the 2022 ABC International Accelerated Bridge Construction Conference In Miami
Miami, FL – On December 7th-9th, 2022, TIDC traveled to the ABC International Accelerated Bridge Construction Conference to participate in a half-day FRP Composite Girder workshop and support the AIT Composites booth on the expo floor. They traveled with a 5'x8' bridge girder cross-section full-scale display which drew large crowds of State DOT Engineers. "There were over 600 attendants at the ABC conference, and most stopped by our booth to engage with us and inquire about the benefits of FRP Composite Tub Girder design, manufacturing, and installation," said James Bryce, the Program Manager for the TIDC who traveled to Miami for the event.
TIDC & AIT Composites-codeveloped FRP Composite Tub Girders, or GBeams, have now been installed in four locations around the eastern United States including Florida, Rhode Island, & two in Maine. With the success of the full-scale test display model, AIT Composites has significantly raised awareness of this new, lightweight, low-maintenance bridge girder, and has attracted significant interest from many state DOTs around the U.S.
The TIDC is the 2018 U.S. DOT Region 1 University Transportation Center located within the University of Maine Advanced Structures & Composites Center. TIDC's focus is on extending the life and improving the durability of transportation assets. The University of Maine has partnered with The University of Connecticut, the University of Massachusetts Lowell, the University of Rhode Island, the University of Vermont, and Western New England University in collaboration with all 6 New England DOTs to create TIDC.