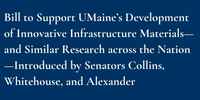 Bill to Support UMaine's Development of Innovative Infrastructure Materials—and Similar Research across the Nation—Introduced by Senators Collins, Whitehouse, and Alexander
Posted on 2/11/2019
A bipartisan, bicameral bill would boost research and investments in cutting-edge materials to improve public works nationwide
In: Press Releases Posted Mon, 02/11/2019 – 09:14 on www.collins.senate.gov
Washington, D.C. –Around the country, communities face an urgent need to invest in more resilient roads, bridges, water systems, and other public works.  In recent years, civil engineers and scientists at institutions like the University of Maine's Advanced Structures and Composites Center have made significant progress toward developing innovative materials to address this problem.  In an effort to support this promising field of research that could vastly improve infrastructure nationwide, U.S. Senators Susan Collins (R-ME), Sheldon Whitehouse (D-RI), and Lamar Alexander (R-TN) introduced the Innovative Materials for America's Growth and Infrastructure Newly Expanded (IMAGINE) Act.
"Engineers in Maine and across the country are developing exciting new ways to improve our infrastructure by using innovative, resilient, and cost-effective materials and techniques," said Senator Collins.  "The University of Maine's Transportation Infrastructure Durability Center is at the forefront of efforts to transform our transportation network through cutting-edge solutions.  The IMAGINE Act will help foster this important research and translate it into practice."
Dr. Habib J. Dagher, Director of the Advanced Structures and Composites Center at the University of Maine, said, "The IMAGINE Act will be critical to maintaining U.S. technological leadership in the advanced materials space, and the stakes are very high.  The construction industry builds approximately $1.25 trillion worth of structures every year in the U.S. and about $10 trillion worldwide where it is worth more than 10% of the world GDP.  Developing construction materials that are lighter, faster to install, and will last longer will create jobs, save taxpayer dollars, and improve the safety of the traveling public.  Can we IMAGINE bridges that can be built in days using materials that last decades with little maintenance?  We applaud Senator Collins and her colleagues for challenging America's best engineers and scientists to IMAGINE."
"At a time when our deficient bridges, congested highways, outdated transit systems, and leaky water pipes are costing American families $3,400 per year, it is time to improve outcomes and close the nation's $2 trillion investment gap through the development of innovative design, materials, construction methodologies maintenance procedures and operation techniques," said Robin A. Kemper, P.E., President, American Society of Civil Engineers. "The IMAGINE Act incorporates these goals by encouraging the research and use of innovative construction materials and techniques and water and transportation projects across the U.S., and is an important first step in improving our nation's infrastructure systems to make them fit for the 21st century."
The bill would take a number of steps to promote advanced infrastructure materials.  It would create a task force to examine standards and methods used to assess the federal government's approval of materials for infrastructure projects.  It would promote research into new materials and building techniques.  And it would spur federal investment in vital bridge and water infrastructure projects that utilize innovative materials, prioritizing coastal and rural projects.
The IMAGINE Act would encourage the development of materials such as high-performance asphalt mixtures and concrete formulations, geosynthetic materials, advanced insulating materials, advanced alloys and metals, reinforced polymer composites and advanced polymers, nanocellulose and wood-based composites, coatings, highly functional adhesives, and other corrosion prevention methods used in conjunction with those materials, and any other material or aggregate materials as determined by the relevant agencies.  A range of stakeholders from innovative materials industries cheered the bill's introduction.
One provision of the bill would call on the Transportation Secretary to form innovative material hubs throughout the country to continue to drive research into and development of innovative materials for use in infrastructure projects.
Senators Mike Rounds (R-SD), Cory Booker (D-NJ), and Tina Smith (D-MN) have joined as cosponsors of the bill. A section-by-section summary of the bill is available here.
Last year, Senator Collins announced that the U.S. Department of Transportation had selected UMaine to lead a newly created Transportation Infrastructure Durability Center in a coalition with five other New England universities.
Credit: https://www.collins.senate.gov/newsroom/bill-support-umaine%E2%80%99s-development-innovative-infrastructure-materials%E2%80%94and-similar-research