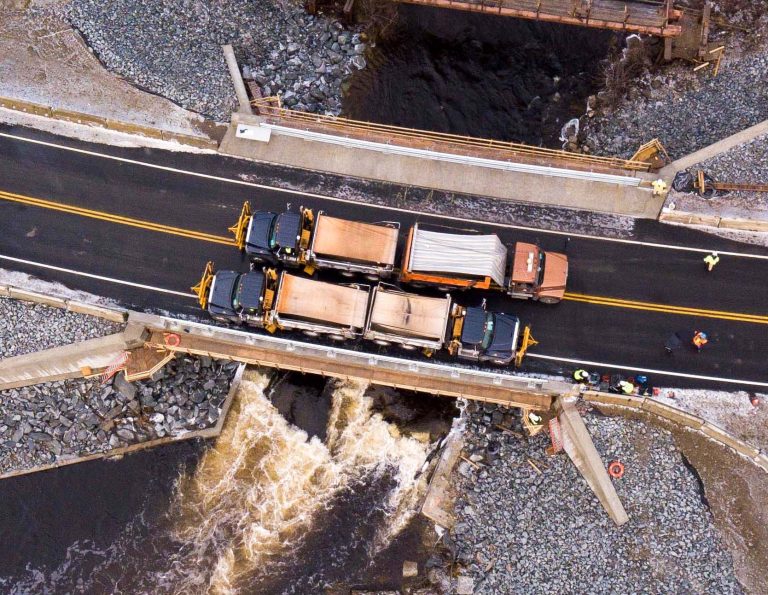 The Grist Mill Bridge in Hampden, Maine Now Open
Posted 2/24/2021
MaineDOT partnered with UMaine and UMass Lowell researchers to live-load test the innovative bridge system to obtain base-line measurements in the field. These measurements will help the researchers obtain data from the beginning of the bridges life, something that technology has not allowed for past bridge maintenance practices.
TIDC researchers at the University of Maine and the University of Massachusetts Lowell worked with AIT Bridges during the installation of the first of its kind fiber-reinforced polymer (FRP) Composite Tub Girder system developed at the University of Maine's Advanced Structures and Composites Center.
The Grist Mill Bridge, built around 1950, reopened to traffic on Dec. 23, 2020 after being closed in April. The bridge has carried Route 1A traffic over the Souadabscook stream for many decades, with the most recent update of the bridge being conducted in about 1950. The steel girder bridge was demolished and replaced with the composite tub girders that will last longer than steel, with little maintenance needed due to is corrosion resistance. The new technology is expected to have a 100 year life time, at least 30 years longer than the average steel bridge.
The University of Massachusetts Lowell has developed an innovative monitoring and assessing system using fiber optic sensing technology. This new system was installed in the bridge girders before they were placed on site. The goal of the new system placement in the Grist Mill Bridge is to allow the research team to monitor the bridge girders from installation and identify when maintenance needs may arise before a visual inspection may detect the need. This, in turn, will help the MaineDOT to save maintenance costs involved with monitoring bridges.